We often put ourselves in a position of dread… when we are forced to take that all-nighter. How many times have we managed to get no sleep because we had to take an exam the next day and we did not know any of the content? Probably too many times to count. What if I told you it didn't have to be that way? You CAN get your sleep AND get the marks that you want. It might be a bit hard to get out of a system of procrastinating at first, but over time if you follow these steps, you are bound to create good and healthy habits that will propel you to some form of success! Here are the best study tips to improve your grades and get that sleep that you need.
1. Read notes before and after
Sometimes we like to put time and effort into doing things we deem as fun instead of something productive. And then we end up falling behind in classes. The best way to ensure that you are keeping up to date with the work in class is to read the lecture notes BEFORE you go to class and AFTER class is over. With this technique, you will have a general idea of what will be taught during the lecture. Try to come up with questions about the content if you don't understand the notes you've read. In class, see if your questions are being answered, and if not, ask those questions!
After the lesson is done, look over the notes again to reinforce the content that you have just learned. It takes time to get into the habit of this Before-and-After skill, but once you get the hang of it, remembering information will get a lot easier.
2. Handwrite or type your notes
Simply reading from the textbook or looking at the slideshows in your classes is not enough. Put effort into making nice notes that will test whether you understand the content. What I like to do is read the textbook and take note of key points from the information. For example, if I'm reading something about Beluga whales and I want to remember the key points, I write down on a sticky note the important terms and overarching ideas. In this scenario, I would probably make a few bullet points about the Beluga's habitat, food it eats, predators, and other main ideas along those lines. After collecting the ideas, I move away from my list. Then, I will try to remember each key point and two or three important facts that relate to that specific idea.
If you don't want to handwrite your notes, consider taking them on the computer. Microsoft Word, Google Docs, there are just so many places you can take good notes that you shouldn't be worried! There's a site for everyone. The best part about taking notes is that you can sell them in the future. When you are a broke student that needs some extra cash, notes really do come in handy so keep them close and make them look good! Take pride in taking your notes, they might just prove useful in the future in more ways than one!
3. Use Quizlet
If you don't like to write your notes and you consider yourself to be a visual or auditory learner, you may want to consider Quizlet! Quizlet is a great tool for those who love to use flashcards but may be a bit too lazy to handwrite them. This online tool allows you to make online flashcards about any topics. Simply create an account and begin your journey! I've been using Quizlet for about 5 years now, and it's saved my life many times. The software is easy to use and it can even be downloaded as an app on your phone so you can study while on the go. You can also create sample tests to help you remember terms. Although the tests created aren't what you will be seeing on the exam (pretty easy tests made!), it's still good practice.
4. Study Dates
The best piece of advice I got in my high school career was something along the lines of: "Be friends with those who have the same drive and passion as you or are even more passionate". Yes, it may sound a bit passive-aggressive, but you want to be around people that make you feel good and motivate you. So, if you sound like a person that has those friends, follow this study tip. Work with them. Even if you are in different classes, take time out of your week to hang out with those friends. You can all practice teaching each other about what you've learned in class. Trying to teach someone something often ends up helping you learn better. You can learn something new, and help someone learn something new as well. These friends will also be the same ones that will motivate you to study.
I had a friend that was the academic star in the class. Whenever she would do well and tell me her marks, I would want to do well too. Often jealousy can drive us to do bad things, but in this case, it gave me a challenge. I wanted to reach the same level as my friend academically so I worked harder than I had before. Over time, I made it!
The main conclusion is that you should set a benchmark for yourself. Oftentimes, those who are close to us provide the best benchmark for us to reach. Even consider creating study groups with these people. You will be able to learn about their good study habits and it's a great system to share information with one another.
Important Comment!
There are obviously many competitive students out there, but those who share their notes and techniques are the ones that pave a pathway for success- not only for themselves, but for everyone else around them.
5. Go on a run
Yes, I really am suggesting this. Many of us don't realize how important exercise is for our bodies. It's so helpful, that it even boosts our memory! Don't believe me? Take a look at this article from Harvard Medical School. So, yes! Exercise really does help us with studying. I suggest choosing a specific time of day for you to go on a run, or even a walk. If you are an early riser, take an early morning jog and come back to study a few terms. If you prefer waking up a bit later, take a nice evening stroll after you've done some studying to relax your brain. Don't think about the content you have to memorize when you're on your walk. 5 minutes before you come back home, consider talking to yourself (in your head or out loud) about what you read before walking.
Another tip you can follow is to bring small flashcards with you (or your phone with Quizlet on!) and test yourself and your memory while you are on your run. Remember to not just exercise one day only. And don't overdo yourself the day before or of the test. Create a schedule for yourself that you will stick to. Choose either morning walks or night walks, and whichever time you choose, try to get your heartbeat racing; this is the best way to remain healthy and take a breather from the coursework. Over time, you will start to feel yourself associating exercise as another stress reliever that you can rely on during those panicky moments. Remember to not overdo yourself though!
5. Listen to podcasts
When you are studying a major topic that many researchers are studying, there's a good chance you are going to come across some podcast about the topic. You can listen to podcasts on TuneIn (one of the best podcast tools), Apple Music and Spotify, just to name two big companies, but you can even listen to podcasts on YouTube as well. This study tip improves your grades if you are an auditory learner. By listening to the content, you can reiterate the important facts that you are trying to memorize. For those of you who are not auditory learners, don't fear! Even if you don't like podcasts, you can watch YouTube videos and KhanAcademy videos to understand the content as well. This technique works with what I've said in tip #4- go on a run and listen to a course-related podcast!
6. Doodle
For my visual learners, doodling is a good way to go. Your doodles don't have to be museum-worthy, a simple picture that you can understand is best. While you read the text, consider drawing pictures with one or two keywords as a caption beside the doodle.
Write down the page number from the textbook that you have associated your doodle with. After you've read all the text and done all the doodles, come back to the first image you drew. Try and remember what you are illustrating with your doodle. Don't worry, you can look at the keywords. If you are able to remember the key facts, great! If not, you may have to reconsider your doodle and add a bit more detail. Don't fear about where you can find the information all over again… remember, you wrote down the page number you found the content related to the doodle before!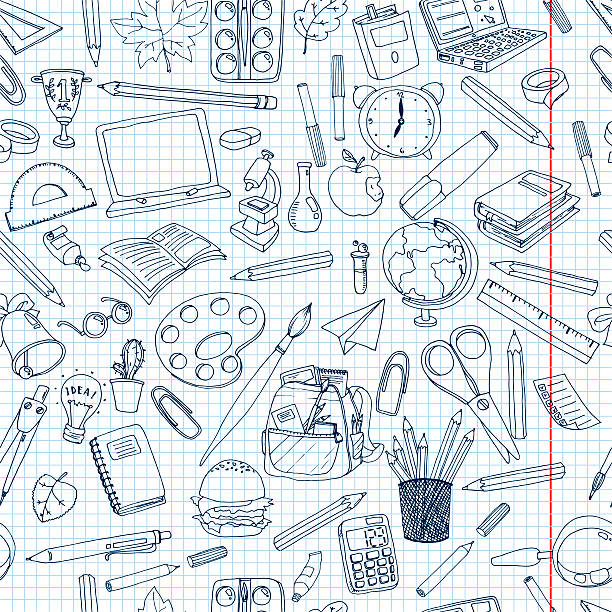 7. Make your own practice tests
One of the greatest ways to study is to make your own practice tests. This means coming up with questions that you think your teacher or professors may ask. Usually, the test questions are not so out of this world as we may feel like they are during the exam period. Try to look for past tests and exams that teachers have given out. Do those questions for sure, and then try to remake the question using different numbers.
Most of the time, teachers and professors want to test your conceptual thinking. They may want you to "think outside of the box". Well, why don't you do the same? Some important ways you can develop those special skills is by asking the following questions to yourself:
"How does this relate to a real-world scenario?"
"How can this be more complicated? Now, how would I solve this question?"
"How would I model this situation in a different way?"
"How does all the content I've learned so far in the course relate?"
There's obviously much more that goes on in making tests and exams but you should never settle for what you are learning. You must find ways to apply your knowledge in real-life situations and look at the big picture to find connections between subtopics.
8. Work in intervals
Set a timer on your phone for small time intervals like 30 – 35 minutes. Work your hardest within that time interval to learn as much content as you can. Remember, study the main points and grasp at the bigger connecting ideas, not just specific facts and dates (although that is still important, it's better to know a general concept so you can, later on, build the smaller details in). When the timer goes off, see how much you have learned and take a small break. You can't force your brain to learn all the information in one seating and it will only tire you out. Learn the general concepts, take a small 5 – 10 minute break and then come back to test yourself about what you learned.
What To Take Away To Improve Your Grades
I hope these 8 best study tips to improve your grades help you out in a way that they helped me out. Everyone learns in a different manner, but through practice we can all learn different techniques and slowly and surely improve our grades. Leave a comment or any other helpful tip you may have that has helped you along the way! I'd love to hear more from your success stories. 🙂 Feel free to contact me as well!